Economical
Paintless Dent Repair can be completed for less than the traditional body shop repair costs.
Convenient
Paintless Dent Repair saves time. It is very convenient for the automobile owner with repairs taking only a fraction of the time compared to filling, sanding and repainting.
Environmentally Friendly
Paintless Dent Repair is very compatible with increased environmental concerns since no painting is involved.
Lease Vehicle
Paintless Dent Repair can help eliminate lease termination fees and penalties for visible body damage.
Lifetime Warranty
We guarantee all our repair work for as long as you own your car.
Convenient, Fast, Guaranteed
If your car is a candidate for Paintless Dent Repair, it's all to gain and nothing to lose! Call us today!
Professional Paintless Dent Repair
We Repair Hail Damage, Minor Dents & Dings
                                                                                         
Paintless Dent Repair is a relatively new process for removing minor dents, dings and hail damage from automobiles. The damage is gently massaged from the backside or underside of the panel. The procedure returns the metal to its original condition without damaging the paint. It is accomplished by highly trained and experienced technicians using specially designed hand tools.
Insurance

All major insurers recognize the benefits of, and endorse, quality Paintless Dent Repair work. We have a trained, licensed insurance claims adjuster on staff and can work directly with your insurance company to assure your vehicle is repaired in a timely fashion, with no hassles.
Retain Original Paint Surface
This process, when applicable, does more to restore and preserve the value of an automobile than any other alternative. When selling a vehicle, there will always be buyers' uncertainty as to the damage a repainted panel may be hiding. Again, PDR preserves the factory finish. With custom paint jobs, Paintless Dent Repair may be the only way to retain your original custom design.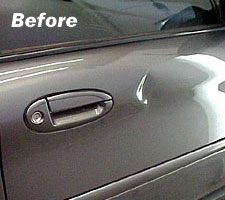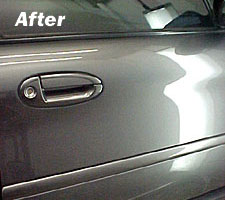 See more Before & After photos >>